The Offices @ 3208
Commercial Office Space for Small Business – Finance – Insurance – Professional Services
Convenient, highly visible location on the corner of State Hwy 33 and 32nd Street La Crosse, WI
The Wilson Thomas Advantage
Ideal for new or start-up business
Single or minimal employee businesses
Three – 900/SF units — singly or combined
High visibility from well-traveled thoroughfares
Reasonable long term leasing options
Attractive low maintenance, high-quality construction
Proven, cooperative property managers
No new personal size office space has been built recently in the area, although a high number of homes and subdivisions exist outbound, with more homes being constructed in highly-desirable rural living near La Crosse. This property occupies a most valuable location.
Click here for a downloadable fact sheet.
Customize Your Space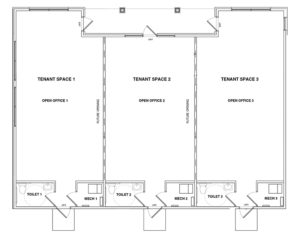 Wilson Thomas Properties is eager to work with business clients to
Assist in carrying out design and layouts
Create efficient and tasteful office spaces to fit individual needs
Provide skilled sub-contractors familiar with the facility
Contribute to build-out costs
Take advantage of existing electrical and hvac systems
Architect-designed state approved without conditions
Construction and all sub-contractors coordinated/managed personally by builder
Contractor and sub-contractors proven successful, familiar with Wilson Thomas Properties
Engineer-designed, state inspected/approved plumbing, Hvac and electrical systems
Fire suppression systems designed/installed/tested by Fireline, Inc.; inspected and approved by state inspectors and local fire department
Insulation and office spaces certified sound retardant
High quality materials throughout; build-out ready with original contractors familiar with the project
Restroom, individual hvac units provided in each 900 s/f unit
Convenient parking available
Groomed grounds year-round
Our three commercial office spaces are perfect for business service companies who value:
Location — High visibility with low congestion
Unit size — Moderate sizes at reasonable long-term costs
Quality construction — Materials, workmanship and installation
Attractive architectural style — Conservative, modern, attractive
Safety — Fire-rated full building sprinkler and alarm system
Accessible — Handicap entries; convenient supplier access
Quiet — Interior spaces with advanced exterior sound control
Parking — Accessible on-site and convenient entry/exit
Area lighting — Tasteful exterior lighting carry air of quality reserve
Transportation — City/regional bus service within 75'
Proximity — Easy travel to hospitals, universities, Trane Co, shopping, restaurants
Seeking Low-impact commercial ventures to The Offices @ 3208  such as:
Financial planning advisors
Accountancy services
Insurance agencies
Investment advising groups
Dental/Medical specialty providers
Professional consultation teams
Medical/Clinical managing staffs
Pricing, Fees and Lease Structure
Prices for The Officies @ 3208 are competitive;

Leases for five or more years
Lower rates for longer terms

An assurance deposit, customarily an investment CD assigned to the leaser, will be negotiated with each lease in support of completion of agreed-upon terms
Price is a flat-fee per-month including taxes, property insurance and exterior maintenance with long-term lease rate stability
Leaser is responsible for

Personal office and employee insurance,
Electric and natural gas utilities, fiber optic computer fees
Interior maintenance

Build-out allowance negotiable.
HVAC and plumbing systems for restrooms are installed.
Click here for a downloadable fact sheet.
For more information: